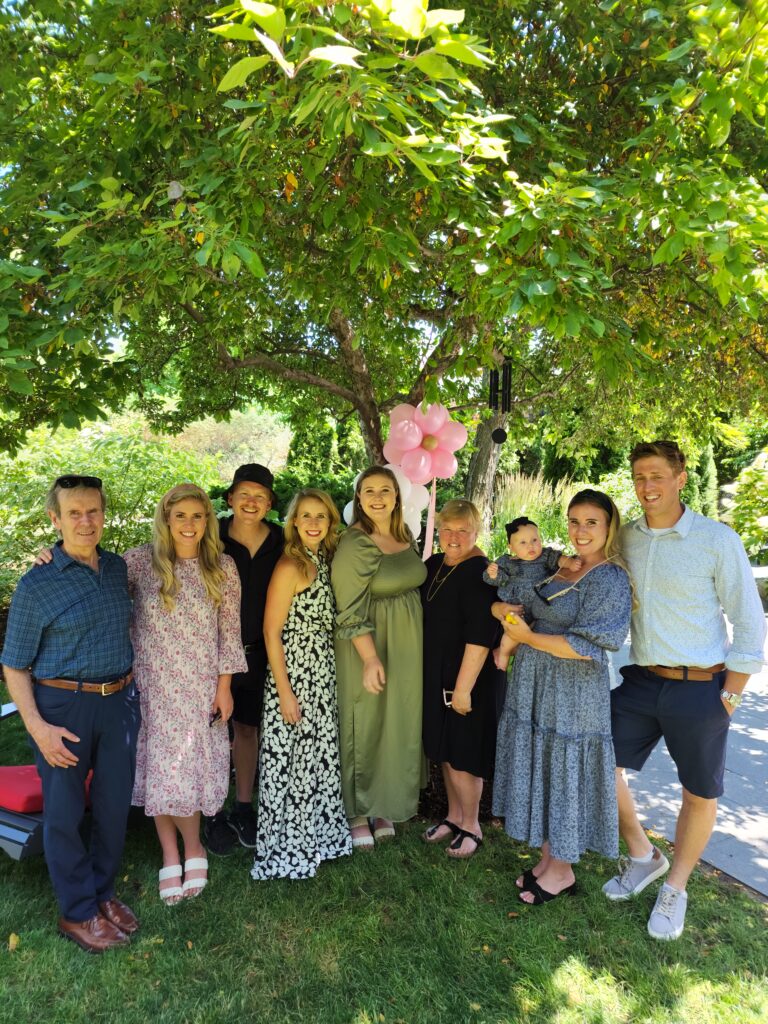 Thank you for visiting my website. It is my pleasure to tell you a bit about myself so that you can make an informed decision about who you re-elect to council for Ward One.
I was first elected to represent Ward One four years ago. It was an interesting first term as councillor. In addition to the normal learning curve of being in a new job, I was faced with the challenges presented by Covid. But council members all stepped up and we worked our way through it. Much was accomplished. But more about that later.
FAMILY
For residents who are not familiar with me, let me tell you about myself and my life in Waterloo, and the experiences I have that make me ideal for re-election to council.
My husband Greg and I have lived in Waterloo for over 30 years.  It is here that we raised our family of four daughters – Kaitlin, Sarah, Maryn and Paige.  Since I was first elected to council four years ago, my family has grown to include our first granddaughter and her dad Matt.  We are having the best time being new grandparents.  Our canine contingent has grown as well – amongst our daughters' and our own pets, we have six dogs.
When our girls were younger they attended Mary Johnston Public School, Centennial Public School and Laurel Heights Secondary School. While the girls participated in the City of Waterloo's synchronized swimming, diving, soccer and hockey programs, Greg and I were active supporters and coaches.
BEING A VOLUNTEER
I believe that so many important things just could not happen were it not for volunteers. To that end, I have volunteered with the Waterloo Girls Minor Hockey, Waterloo Minor Soccer, KW Synchro Club, KW Diving Club, Heart and Stroke, Grand River Hospital Board of Directors, KidsAbility Board of Directors, Prosperity Council Waterloo, Conestoga College, and Family and Children's Services Waterloo to name just a few (for more details please see the Volunteer Activities below).
I have been honoured by the City of Waterloo six times with the Volunteer of the Year Recognition Award.
VOLUNTEER ACTIVITIES
Current:
Grand River Hospital, Chair, Board of Directors,
KidsAbility, Past Chair, Board of Directors,
Waterloo Girls Minor Hockey Association, President, Board of Directors
Previous:
Conestoga College, Chair, Board of Directors
KW Synchronized Swimming Club, President, Board of Directors
KW Diving Club, Board of Directors
Prosperity Council Waterloo, Vision Committee Member
Random Act of Kindness Day, Participant
Heart and Stroke Volunteer Canvasser
Kitchener Waterloo Physician Recruitment Task Team, Various Roles
Family and Children's Services Waterloo, Campaign Team
Waterloo Girls Minor Hockey Rep Teams, Manager/Trainer
Waterloo Minor Soccer Girls Rep Teams, Manager/Trainer
Ontario Summer Games – Diving Competition Meet Manager
Provincial Synchronized Swimming Competitions Meet Manager
PROFESSONALLY
Professionally, I have a wealth of experience from working in the health, social services, and disability sectors within the Region, Province, Canada, and internationally.
I am currently an Executive in Residence with Capacity Canada. I was CEO for health organizations including the Waterloo Wellington Local Health Integration Network, COTA Health and VON WWD. My role as a health care executive for Healthcare New Zealand gave me a unique understanding of indigenous peoples' issues and health care services internationally – and it was fun to live in New Zealand for a period of time.
I received the Oktoberfest Outstanding Business Woman of the Year Award in 2008.
I intend to use my professional and volunteer experience to develop the best approaches to ensuring Ward One's interests are addressed.
REPRESENTING WARD ONE – NOW
Representing Ward One on council has been a fulfilling experience. I've met with members of our ward's neighbourhood associations, homeowners' associations and neighborhood groups to find out more about residents' priorities for life in our ward and our city. It has been enlightening to meet so many residents and hear varying viewpoints and suggestions. I am a good listener and know how to take action.
Housing – One of the most pressing issues is housing that is available and affordable for purchase or rent by individuals or families. I have worked with developers to encourage ways that homes that affordable, with amenities and green spaces, are made possible for 'middle-range' buyers and renters.
Parks – In our Westvale area particularly we were able to complete and update several parks. Residents are enjoying these new spaces.
Traffic Safety – slow down is the message to keep our school areas safe for the kids. Walkers and runners, cyclists, drivers and others using our streets need to be safe and I am working on finding fair solutions.
Economy – I certainly don't have to tell you that prices, it seems for everything, have gone up! I am very aware of the financial challenges the current economy presents and will continue to budget for our ward and city responsibly.
We are proud of Ward One. We are a community of attractive neighbourhoods, good neighbours, lots of parks and green spaces, and plenty of businesses to support. We are also a welcoming neighbourhood and I have encouraged, and will continue to support, initiatives by neighbourhood and community associations, business leaders and community groups that enjoy the diversity of our area and embrace inclusion.
REPRESENTING WARD ONE – FUTURE
I am asking you to re-elect me to represent Ward One.
I've had four years at the City of Waterloo Council table representing Ward One. What a learning experience! Add Covid to the mix and councillors were presented with many challenges. But like everyone else we made the best of it and did the job.
During my first term, I could see that my contribution can make a difference. Council focused on economic growth. We focused on safer streets especially and essentially around our schools. We declared a climate emergency and vowed to achieve a 50% reduction in greenhouse gas emissions by 2030. We established a team dedicated to indigenous initiatives, anti-racism, and equity. I want to continue to be part of the important work to supports these initiatives.
Housing – In my second term, I will support Ward One's priority to have housing that is affordable for first-time buyers, families, seniors, and others to purchase or rent a home. Home affordability is a big issue, especially during these challenging economic times. I will continue to work with community/neighbourhood associations and developers to support planning measures that provide reasonably priced homes, along with amenities like lots of green space.
TRAFFIC – Traffic safety measures are also a priority. Around our schools, I support low speed limits – we must keep our children safe. We must also look at reasonable ways to keep our many walkers and cyclists safe as they are getting out for exercise or errands. Drivers need to be treated fairly with responsible and reasonable limits.
FAIRNESS – Waterloo is a thriving community of diverse ages, abilities, cultures, and life experiences.  I want the 'living in Waterloo' experience to be fair to all.  I am committed to supporting initiatives that help improve communication, break down barriers, foster understanding, enjoy diversity and encourage inclusion. 
Economy –  As mentioned above, I am very aware of the financial challenges the current economy presents and will continue to budget for our ward and city responsibly.
I am asking you to re-elect me on October 24. I have the enthusiasm and experience to represent your best interests on council as we move forward for the next four years.
TOGETHER FOR TODAY AND TOMORROW